One of the big questions occupying the minds of corporate leaders coming through the Covid-19 pandemic is "will employees want to return to the office after working from home?". Setting the standard for the future of work, tech giant Google announced in December 2020 plans to bring employees back into the office in a hybrid capacity, working three days in the office and two days remotely. The Silicon Valley company famously known for its open plan, collaborative and interactive work spaces has designed different types of spaces including outdoor spaces to ensure a safe environment for when employees come back to the office.

As companies around Australia look to follow Google's hybrid approach, Emerdyn has considered a reality where team meetings could mean a board "room" in the office gardens or a nearby public park. Accommodating the new office work environment and transforming outdoor spaces into functional open-air team meeting places or work stations requires durable, purpose-built outdoor furniture which takes into account the following considerations:
Shelter from the elements
While working outside sounds like a great idea, protection from the elements is central to creating a functional space. Outdoor workspaces require covering from sun, rain and wind. Emerdyn's range of shelters can be custom designed to protect employees from the sun's harsh rays and also the glare on screens or reflection from paper. For options see http://www.emerdyn.com.au/products-list/shelters
Seating
Although this may seem like an obvious inclusion in the meeting environment, consideration to layout and use is what will set your teams up for a win. In an outdoor space, a mixture of fixed and movable seating is advised in order to accommodate various configurations for different team needs. For this reason, fixed settings offering wheelchair access (tables with open ends and inset legs, or a shorter bench on one or more sides) make a great space for small group meetings or outdoor "hot desking", allowing both wheelchairs and standard movable chairs to join. Contoured bench seating can also be installed to allow for group discussions in the round. See Emerdyn's product range for inspiration: http://www.emerdyn.com.au/products-list/park-seating-amp-tables and our Garden Range for movable furniture https://www.emerdyn.com.au/product-detail/garden-chair-garden-seat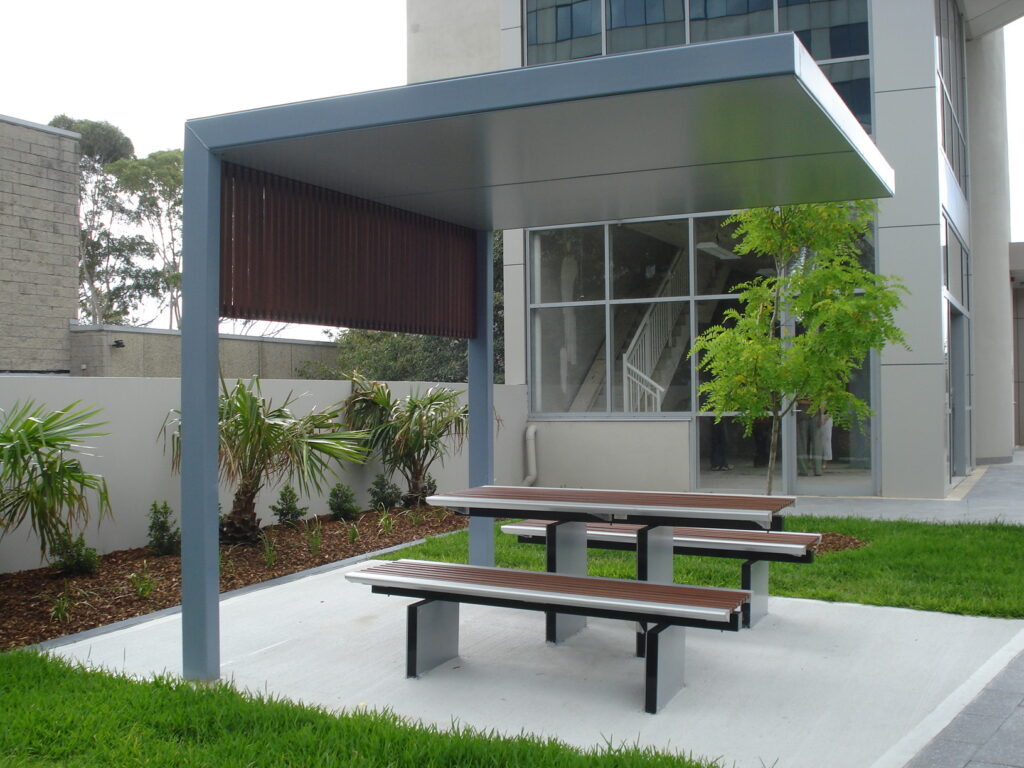 Desks and support surfaces
Working outside in ordinary public spaces may prove challenging to write or type effectively, so it is worth considering the ergonomics of outdoor working spaces, table height and materials. A variety of options can be experimented with in outdoor spaces, such as standing tables, and materials such as hardwood timber are recommended to allow for greater comfort when sitting for long periods.
In designing outdoor meeting spaces, thoughtful consideration must be given to functionality, comfort and aesthetics. The use of flexible configurations which include fixed and movable seating solutions, tables and shelters can create spaces for connecting ideas and productive collaboration. Public space should be designed to allow for physical distancing and companies need to ensure that these spaces can be cleaned frequently and thoroughly, particularly high traffic surfaces in the outdoor space.
For a full consultation to practically design an outdoor meeting space, please contact our team via 02 9534 1314 or sales@emerdyn.com.au
References:
https://www-cnbc-com.cdn.ampproject.org/c/s/www.cnbc.com/amp/2020/12/02/google-allowing-employees-to-hold-some-meetings-outdoors-on-campus.html
https://www.inc.com/jason-aten/why-every-business-should-copy-googles-3-day-a-week-plan-for-returning-to-work.html

23

0